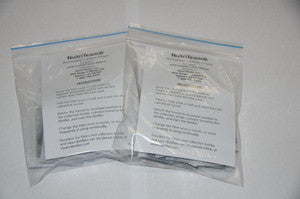 Activated Charcoal Filters (24 Pack)
$29.95
For use with all MH943 Megahome distillers. Also compatible with many other brands.
Two 12-packs of activated-carbon filters is a full two-year supply with normal use.
NSF-approved charcoal filter media. Nutriteam has come up with the highest quality and best price for these filters used with our Megahome countertop distiller and other similar distillers. Store in a dry place prior to use.
What are the activated charcoal filters for?
Activated charcoal is effective at removing harmful VOC's (volatile organic compounds). The most common VOC is chlorine which is often used to treat town and city water sources. They also add to the finished distilled product creating the best tasting and purest water.
How long do the filters last?
On the average they last for about 30 days or 30 gallons, whichever comes first. To ensure that you get full use of them, be sure to rinse new filters with your distilled water not your tap water.